HTC One X+ Android smartphone on ATT network can now be updated with the official Jellybean 4.2.2 1.15.2014 firmware which ropes in an all new refreshing experience of Sense 5.0. So before we proceed, let's check out on what are the quick pre requisites which you need to follow so as to make sure that your update process goes through successfully and smoothly. As of now there is no ETA on by when there will be an official version of KitKat 4.4.2, but we will soon come up with an article which will help you update the same. We have also mentioned the brief list of change log below;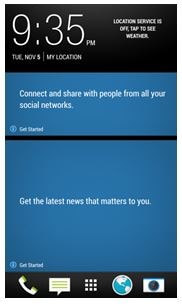 Android Version: 4.2.2
HTC Sense: 5.0
NFC Fixes
AT&T Address Book Fixes
Quick Pre Requisites:
Either you can choose to update with the help of HTC Sync or you may opt to backup all your data present in your HTC One X + with the help of below mentioned steps;
SMS – Use "SMS Backup & Restore app",
Contacts – Sync with the Gmail application,
Call Log – Call Log and Restore
Images, Songs, Videos, Files – Copy to internal / External SD Card,
APN and MMS Settings – Note down from the path "Applications > Settings > Wireless and Network > Mobile Networks > Access Point Names"
Head over to the path "Settings > Applications > Development > USB debugging" in your HTC One X+ so as to enable the USB Debugging Mode. Make sure that your phone is having a minimum of 50% battery life.
Head over to the path All apps > Settings > About > Software Information and locate the Software version. If your software version detail is 2.15.502.1, then you can proceed for updating the device.
Disclaimer: We should not be held responsible in any manner for any damage caused to the device caused due to not following the instructions mentioned in this article.
Assuming that you are done with all the above mentioned steps, let's proceed to the next step where we have detailed the procedure with which you need to apply the update.
Procedure to Manual Update HTC One X+ with Official Jellybean 4.3 Android OS:
From your device's home screen, tap on All apps, tap Settings and then tap on the AT&T Software update for checking the updates.
Tap on Ok and Continue to update the same. Please make sure that you will have the active internet connectivity.
If downloading the update using the mobile data network (not connected to Wi-Fi), you may be prompted with a data fee warning message. If this is acceptable, tap YES to start the upgrade process.
Once the download is complete, the user will be prompted to install from the Notifications pull down. Tap the System update to begin the upgrade process.
Tap OK to begin the update process to software version 2.15.502.1.
Do let us know in the comments section just in case if you face any issues in the process of firmware update. You have now successfully updated the latest version of Jellybean 4.3 Android firmware in your HTC One X + Android smartphone. We will very soon be coming up with custom ROM firmwares which are based on the KitKat 4.4.2 Android firmware.